How to get a NBA accreditation for a college?
Getting an NBA accreditation is easy. To begin with, NBA only accredits programs, not institutions.
Step 1 :Institution applies for accreditation.
Step 2 :Submit 10% fee with pre-qualifier.
Step 3 :If the program complies with the qualifiers, institution submits the rest 90% fee with SAR.
Step 4 :The NBA evaluation team visits the institution and make a report.
Step 5 :The Moderation Committee (MC) creates a report over the evaluators data and submit that to the institution and the Evaluation and Accreditation Committee (EAC).
Step 6 :EAC check the report and the feedback from the institution and submits its recommendation to the Academic Advisory Committee (AAC).
Step 1 :AAC makes the accreditation decision.
There are more workflows in this process for instances like if the institution is not satisfied with the report of the MC. you can check the images below or the official site of the NBA for more details.
However, this is the case of Undergraduate Engineering Programs. For all other programs, there is a slight difference in the accreditation procedure.
For other programs, there are no pre-qualifiers, and the institution submits the total fee altogether at the beginning after which they submit the SAR and fix the dates for institutional visit. The rest of the procedure is the same as of the UG engineering programs.
Accreditation procedure for UG Engineering programs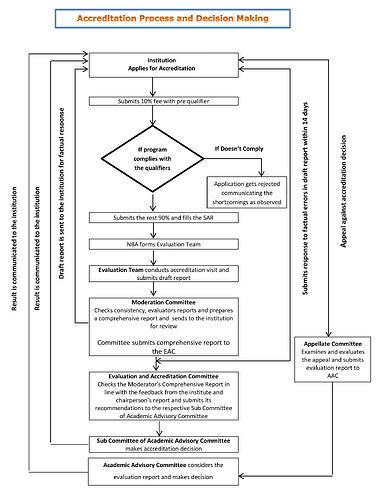 Accreditation procedure for all other programs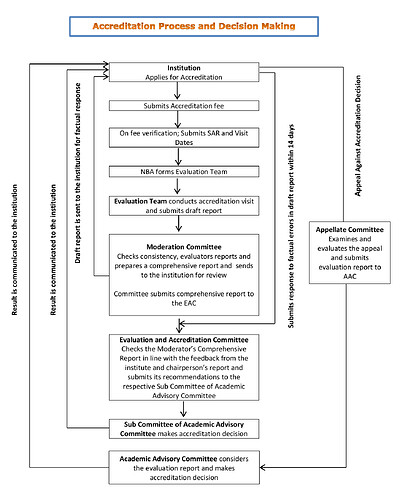 //